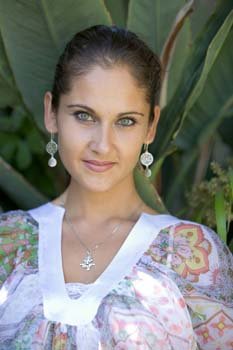 My Personal Story
By: Cara Yar Khan / Atlanta, Georgia
HIBM patient since 2002
UNICEF Child Protection Specialist

"We should consider every day lost on which we have not danced at least once."
A dear friend once told me that, in allowing ourselves to be vulnerable and ask for help, is in fact a strength rather than a weakness; it allows us to love more honestly and be loved in return. These words of wisdom describe my life since realizing that something was happening to me, that something was wrong.
My story is similar to that of other patients, a tale of confusion, uncertainty and disbelief. My diagnosis came three and a half years ago, over the phone. Doctors could not tell me what was going to happen. And I never imagined it would be like this.
How do I, living with HIBM, put into just a few words, what I feel and think about this condition when it affects everything, everyone in and every day of my life? The struggle is exhausting; the challenge is never ending and the pain is frustrating.
Since I was young I always loved babies and dreamed of growing up to be a mother of five children; five mouths to feed (I love cooking); five adorable faces to cherish. Without a cure for HIBM, I am not sure that I will ever have even one child.
When I was in grade school I started dancing. By the time I was in university Latin dance was my most special passion, a way to express myself, share, teach, exercise, and feel totally alive! Because of HIBM, I cannot dance anymore, at least not the way I used to. My heart aches when I hear salsa music and see dancers twirl around but cannot join them. The movements and steps and turns are all inside me. I feel them still and I want to move. But I cannot. I remain to one side, at the edge of the dance floor, balancing on my cane, wishing I did not need the hidden leg braces, which without, I cannot walk straight anymore.
I would be lying if I said I have never moments when I weep with frustration, because the most simple movement has become so difficult. When you grow up with a full and active life, running, playing sports, hiking, skiing, skating, climbing and dancing, what are you left with when these joys are no longer possible?
I will tell you.
You are left with a new found appreciation for the smallest pleasures in life; the courage to ask a total stranger to lend a hand; unimaginable compassion and loving kindness that comes with sharing this journey with others.
We figure it out, day by day. And by we I mean my devoted parents, extended family, friends and supporters. We talk, and plan. We research, and inquire. We reach out, and learn.
And most important we remain hopeful. Hopeful because we know that thanks to the enduring decidication and hard work of Dr. Daniel Darvish and Dr. Babak Darvish, other patient's involvement and ARM's generous volunteers and donors, that a cure IS within reach. They discovered it. Now we, together, are trying to realize its development.
One way to measure the progress of HIBM is to gauge what the body can and cannot do anymore. My first noticeable change was not being able to push up onto the tips of my toes. That was five years ago. So, I ask you today, from the bottom of my heart, to stand up on your tippy toes for me, reach for the stars and make a wish; A wish that the cure for HIBM will be here for all of us very soon. Thank you!
Please visit my fundraising page, 'Running for Cara' at: (http://www.crowdrise.com/CUREHIBM-Running4Cara)