Harmony Frederick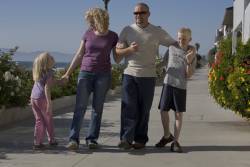 My Personal Story
By: Harmony Frederick, Coarsegold, CA
HIBM patient since 2005
E-Commerce Manager
Married with a daughter and son born in 1998 and 2000.

"My joys are my children and my family!"

"Be strong and of good courage"
~Deut 31:6
"Everything that is done in the world is done by hope."
~Dr. Martin Luther King, Jr

"At about the age of 26, I started having hip pain and felt that I was walking funny. After a year of trying to figure out why I was having the pain, I decided to refer myself to a neurologist. After many tests and many doctor visits, I finally had a symptomatic diagnosis of HIBM. The doctor then referred me to ARM and HIBM Research Group (HRG) to get a DNA test to confirm the diagnosis. The test came back positive. It was so relieving to finally know what was happening. Thanks to the support of ARM, I was able to get help in my quest to find an answer.
My disease has been a very challenging experience. It is easy to get depressed when you can't physically do the things you once could, but I have faith that I can make it through this challenge, and although I might have bad days, my good days still outnumber the bad.
Thanks to ARM I have been able to communicate with other patients and hear their stories, which has been invaluable. I feel a sense of community with other patients, and knowing that I am not going through this alone is a real help during the struggles. It is my hope that with the support of ARM we will find a cure for this debilitating disease. With much hope and prayer, ARM will develop a cure soon enough so that I and others may never lose the ability to walk."